12 Best Kitchen Countertop Materials and Their Features
Consult with any interior designer. They will give you lots of ideas on what the best kitchen countertop material is. We all have our own opinions. All countertop materials match different personalities and they're no doubt an important design decision. After all, we gather here, prepare dinner here, cook, eat, and more.
Here are the twelve best kitchen countertop materials and their characteristics:
1. Quartz countertop
Quartz kitchen countertops are a favourite among homeowners. Quartz is non-porous which immediately gives it a leg up over alternatives like marble, granite, and concrete. This means quartz countertops can resist stains much easier. It also doesn't catch bacteria or viruses in its cracks which is another necessity in the kitchen.
2. Granite countertop
Granite kitchen countertops are made from a highly durable material, standing up well to everyday wear-and-tear. It is also scratch-resistant which means you can technically cut on it although doing so will most definitely damage your knives. In addition to the performance, a granite countertop comes with a unique look and is affordable to the average homeowner.
3. Marble countertop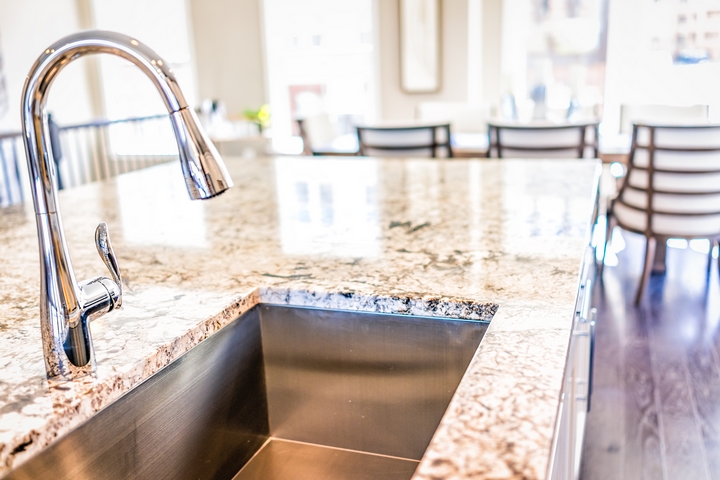 Marble is a natural stone. Though exquisitely beautiful and charming to have in a kitchen, marble lacks durability. It can be scratched, cracked, and broken far easier than other kitchen countertops. That said, it is an eco-friendly option that, if maintained, does contribute to resale value.
4. Concrete countertop
Concrete is a more diverse material than a lot give it credit for. Concrete can be etched, stamped, sealed, acid-stained, and colored. Exceptionally durably, it is also heat-resistant exceeding the performance of quartz and granite in this way. Although heavy and above-average in cost, concrete is easily one of the best kitchen countertop materials going.
5. Laminate countertop
You may see 'laminate' and immediately think, "no!" and we get that. Believe us. Laminate is, however, very budget-friendly, easy-to-clean, is stain-resistant, and versatile. The obvious drawbacks are that it can be scratched, contributes no resale value, and is not heat-resistant. Fortunately, if you're in a pinch and you just need something cheap, laminate countertops work.
6. Limestone countertop
Limestone tiles are for the cost-conscious buyer. As a kitchen countertop, you get a trendy and refined look. That said, grime can accumulate in the nooks and cranny of this material. Choose wisely when it comes to tile of any kind to ensure you minimize where food and moisture can attach. Limestone has to be a consideration for anyone looking at natural stone kitchen countertops.
7. Wood countertop
Wood gets a special mention on this list. As problematic as it is, wood kitchen countertops are classic and, if sealed, are hard to beat in terms of look and feel. Natural and beautiful, wood countertops can degrade over time and require additional care and maintenance. If you understand how to keep up with it though, there's nothing wrong with a country-style natural wood.
8. Terrazzo countertop
An epoxy terrazzo countertop is highly durable and eco-friendly. Made from recycled glass typically, this is a unique countertop that is favored in many commercial and industrial environments. Terrazzo is scratch-resistant and stain-resistant, and is easy to clean. The high resistance to heat also makes terrazzo a favored option in 2021 for best kitchen countertop.
9. Soapstone countertop
Soapstone is a unique kitchen countertop idea that is immaculately stunning. Though soapstone does come with a price tag, it mixes well with almost any home décor theme. It is less porous compared to granite, is unfortunately susceptible to staining, and is harder to damage than marble. What you're truly buying with soapstone countertops is a look and so with that, maintenance will be needed to avoid damage.
10. Porcelain countertop
Porcelain is non-porous, stain-resistant, and easy to clean. It doesn't have to be sealed and requires no special treatment to do the trick as a kitchen countertop. High-quality porcelain is scratch-proof, heat-proof, and long-lasting. Porcelain probably doesn't get enough attention when having the conversation about what the best kitchen countertop is. Its mid-range in affordability also makes it accessible and somewhat a standard in home renovations.
11. Solid surface countertop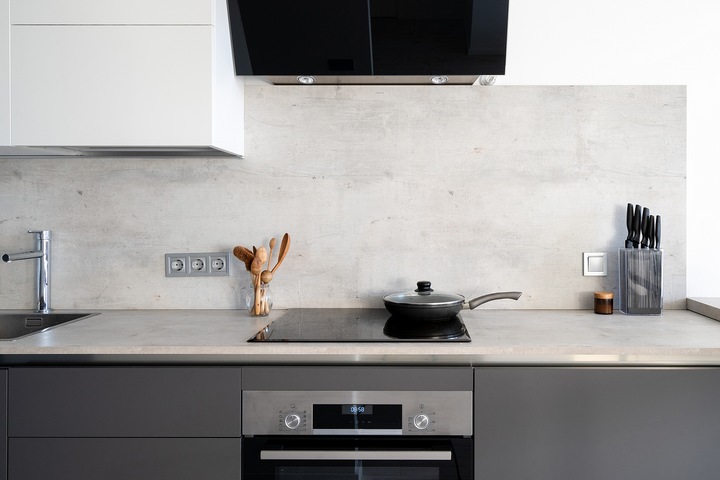 Solid surface countertops are a mid-range option for homeowners who don't want to sink to laminate but who can't afford a more expensive stone. The beauty of solid surface is it's customizable and can be resurfaced with an orbital sander at home. Choose the color and pattern you want. It is resistant to stains and is repairable although it does scratch and cut easily.
12. Stainless steel countertop
That's right, you can have a stainless steel kitchen countertop! It's rather mid-century look and hardly cheap, a custom fabricated steel countertop is easy to clean, impervious to any sort of staining or rust, and is germ-resistant. Despite its immense benefits, unless you have a reason to choose steel, you may want a material with a little more visual appeal. Stainless steel is a lot of function but is not the sort of show-off countertop you might be chasing after.