12 Types of Tires with Unique Features
Do you own a heavy-duty pickup truck needing tires that offer superior traction for off-road driving? Or do you own a sports car, which needs tires that perform well at higher speeds? When buying new tires, understanding the different types that are available, and which one best suits your needs, can be daunting. Knowing the specific needs of your vehicle and driving style allows you to make a better purchase decision.
When considering which tires Toronto to buy online, check the vehicle's manufacturer-recommended tire specifications. If you are still unsure about which type to purchase, you can learn more about each type of car tire and their unique features. The following are the 12 common types of tires:
Type #1: Summer Tires
Summer tires are type of tires that are engineered for performance in both wet and dry conditions. They feature solid contact patches and adequate circumferential grooves that improve hydroplaning resistance. Ideal for performance vehicles, they are optimized to deliver grip and offer responsive handling in dry or wet conditions.
Type #2: Touring Tires
In some cases, touring tires are also referred to as Grand touring tires. They're designed to deliver comfort, reliable all-season traction and more responsive handling. The tread pattern is often asymmetrical. Touring tires have a higher speed rating compared to all-season touring tires.
Type #3: Performance Tires
Performance tires have large lateral, circumferential grooves, which improve wet weather traction. They also feature silica-enriched tread compounds and fairly dense-siping for better grip in all climates. They have a higher speed rating compared to touring tires.
Type #4: Competition and Track Tires
Like street performance tires, competition and track tires are designed for peak performance. They are not ideal for daily driving. These tires are designed to maintain constant road contact, but they are only effective in dry conditions. Engineered for extreme performance, competition and track tires are generally used for professional competitions or amateur track days.
Type #5: Highway Tires
Highway tires feature all-season tread patterns. They are designed to handle the heavy load of an SUV or truck. With durable tread patterns and compounds, they can resist uneven wear, delivering long-lasting tread life. Highway tires generally feature siping to enhance all-season traction.
Type #6: All Terrain Tires
Compared to highway or trail tires, all-terrain tires feature a more aggressive pattern. With more voids and larger tread blocks, they offer great traction for off-road driving. In addition to the off-road thrills, they provide highway stability. All-terrain tires are designed to handle light mud, sand and gravel. They are known for their aggressive look with minimal sacrifice in longevity, comfort or noise.
Type #7: Trail Tires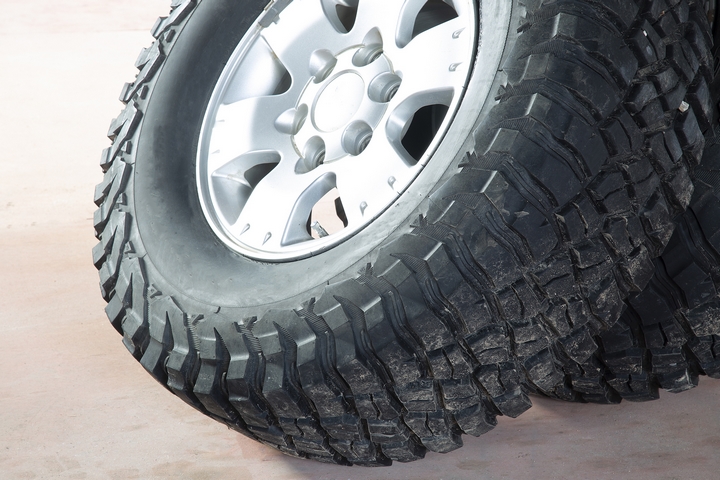 Trail tires are also known as all-purpose tires. They are a bit more rugged compared to standard highway tires. The tread pattern on these tires often includes overlapping blocks, which provide moderate off-road grip even in loose-road conditions. In some cases, trail tires are referred to as mild all-terrain tires.
Type #8: Mud Terrain Tires
Mud terrain tires feature an extremely aggressive tread pattern with more voids and large tread blocks. This provides more traction in softer terrains like deep sand and mud. They often come with pronounced sidewall features that play a crucial role in enhancing traction in soft terrains and give the tire a markedly rugged look.
The sidewalls are reinforced to resist tears, abrasions and punctures, which are preferred for off-road driving. Mud terrain tires are not as comfortable on roads, and they tend to be noisy. They are superb for off-road enthusiasts or those aiming for an off-road appearance.
Type #9: Sport Truck Tires
Sport truck tires are also known as performance truck tires. They resemble highway tires. With all-season tread patterns, they are optimized for different weather conditions. Sport truck tires feature sipes for enhanced traction. They also have higher speed ratings compared to highway tires. In some cases, they feature an asymmetrical tread pattern.
Type #10: Ribbed Tires
Ribbed tires are designed to offer long-lasting mileage and are the ultimate in highway handling. They are excellent for commercial vehicles. For enhanced stability, even under heavy loads, these tires feature a solid rib tread design. This also improves its wet weather traction.
Type #11: Winter Tires
Winter tires are optimized to offer traction in harsh winter conditions. They feature deep circumferential grooves and heavy siping, which work to slush build-up and expel snow from the contact patch. Winter tyres come in two main types, studded and non-studded. A studded winter tire features small metal studs or pins engineered to enhance traction on icy roads.
Although they do well in conditions with heavy ice, they can cause additional discomfort and noise. In some states, studded winter tires are illegal. Non-studded winter tires don't have studs, but they share the rest of the features with studded winter tires.
Type #12: Trailer Tires
Trailer tires feature either a radial- or bias-ply construction. Bias-ply tires generally carry more weight for extended periods. However, they have more irregular wear and offer a rougher ride compared to radial tires. Radial ply constructions provide a smoother ride, making them a better fit for highway driving.